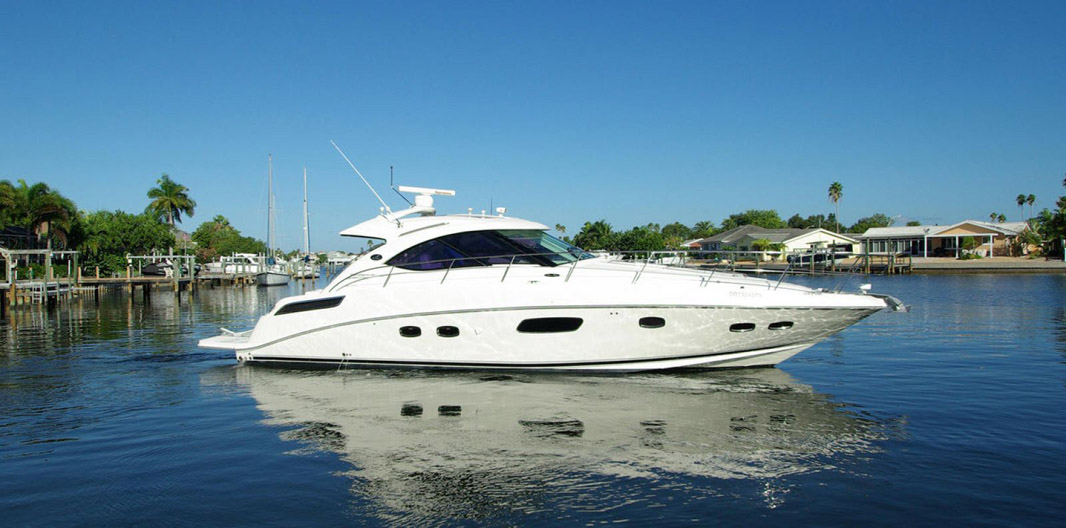 Powered by Zeus pod drives with smooth joystick docking is the Sea Ray 43 Sundancer! All the bells and whistles are on this vessel, making it stop and turn heads since day one. The aft cockpit seating converts into a sun pad and the hardtop has electric vents, skylights and windows that provide climate control. Take a step through the companionway and you will come to find that the layout of the 43 Sundancer feels huge! When entertaining in the middle, this makes the aft stateroom feel that much bigger and more private. The galleys length precludes the need to curve the counter to make for enough workspace. On the opposite side of the galley is the salon lounge, which is squared in shape making it take up less floor space. As for the aft stateroom, there is also an en suite with a commode and shower combination. Overall, the Sea Ray 43 Sundancer makes a statement and should definitely be checked out before making your final decision.
Read about the pre-owned Sea Ray market in our 2018 analysis.
There is no better professional yacht brokerage firm in the industry to help you find the right Sea Ray 43 Sundancer currently on or off the market. With over 150 yacht brokers worldwide, United has an unbelievable network of both buyers and sellers. We use this to our advantage to help find our customers the right boat for them. There are a lot of available used Sea Ray Yachts available and our experienced brokers will research the history of whichever vessels meet your criteria.
Already have a boat? We can sell it for your quickly and efficiently using the most cutting edge marketing techniques available. We don't just put it on the MLS and wait by the phone. United uses the most advanced marketing tools available from our Google marketing efforts to social media to our email database that consists of more than 75,000 people. So whether you are looking to buy a pre-owned Sea Ray 43 Sundancer Yacht or looking to sell your existing boat, let the team at United help you achieve your boating goals.